The Mediterranean, Twenty-five years after Barcelona (1995-2020)
A regional ambition to be built? How to create innovative cultural gateways and bridges?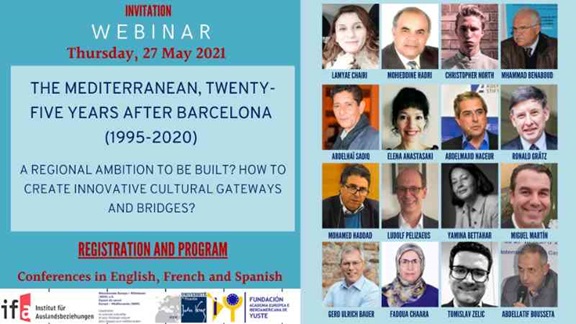 Foundation 'Knowledge Space Europe – Mediterranean (WEM), in cooperation with: Institut für Auslandsbeziehungen (ifa), CERCLL, University of Picardie Jules Verne, European and Ibero-American Academy of Yuste Foundation.
In the years following 1995, great hopes were placed in the final declaration of the Euro-Mediterranean ministerial conference in Barcelona, which was to lay the foundations for the structuring and organization of relations between the countries of the Mediterranean basin. It is therefore time to take stock. The objective was then in Barcelona to work on creating a comprehensive Euro-Mediterranean partnership and advancing the shaping of the Mediterranean as a common space. However, although at the start of the 21st century, dialogue between cultures and civilizations is more necessary than ever, we must ask ourselves why wars divide us, pandemics keep us apart, even as migration and global challenges unite us.
The objective of this webinar is therefore to look at the last quarter of a century, in particular after 1995, in order to ask how cultural actors, writers and NGOs consider the Mediterranean, this "cradle of civilizations" and this "melting pot of cultures". How do we assess the deficit in cultural relations between the two shores, which continues to be observed?
Which bridges and gateways can be identified as options for the Mediterranean to overcome the burdens of the past and prepare for the future?
In the field of cultural cooperation, how can we identify the strategies, mechanisms and actors that can help reinvent the Mediterranean in the 21st century and give it a new formative role?
Roundtable "The Mediterranean, Twenty-five years after Barcelona (1995-2020)"
Prof Mohieddine Hadhri –Tunis
In these times of multifaceted crises at the start of the century, the Mediterranean is once again at the heart of turmoil and disarray. Therefore, my contribution to this round table will focus on some forward-looking and indicative reflections on Post-Barcelona era with regard to the bridges to be rebuilt in the Mediterranean area in order to overcome the constraints and misunderstandings of the past and present and to prepare for the future.
1-
Highlight and relaunch the dynamic of Euro-Mediterranean cultural bridges,
2-
Reconstructing in the Mediterranean the crossed imaginaries between East and West on the literary and artistic level. The Odyssey, the Thousand and One Nights, Sindbad,
3-
Finally, focus attention on a few characters who symbolize this cultural mediation, namely: Saint Agustín, Ibn Khaldoun, Leon the African,
4-
How to restore and enhance the "Andalusian model" of coexistence between the three monotheistic religions.